Digitization of cultural heritage as a form of its protection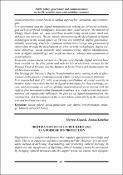 Publisher
Національний університет "Києво-Могилянська академія"
Abstract
Digitization is a complicated process that requires appropriate knowledge and skills. This is an expensive and time-consuming activity. However, it is an invaluable method of archiving, disseminating, and protecting cultural heritage. In digital era, the significance of digitizing cultural heritage cannot be overstated. By bringing cultural treasures into the digital realm, we extend their lifespan; enhance their accessibility, and open doors to exploration, study, and appreciation that were once unimaginable. The research selectively describes the types and process of digitization. A range of applications of digitization technologies for cultural heritage has been proposed. Selected programs of the European Union (EU) and the Polish Ministry of Culture and National Heritage (MKiDN) regarding the development of digitization were analyzed. The summary includes the most important applications of digitization of cultural heritage, which aim to highlight the multi-faceted benefits of the process of digitization of cultural heritage.
Keywords
digitization
,
cultural heritage
,
cultural heritage protection
,
section of the monograph
Citation
Kotulski M. Digitization of cultural heritage as a form of its protection / Mariusz Kotulski, Joanna Kotulska // Public policy, governance and communications in the EU member states and candidate countries : post-conference monograph / [V. Burksiene et al. ; gen. ed. by G. Riabtsev and V. Tertychka] ; National University of Kyiv-Mohyla Academy [et al.]. - Kyiv : NaUKMA, 2023. - С. 63-77.