Программный модуль автоматизированного построения тезаурусов в формате RDF из украиноязычных текстов формата pdf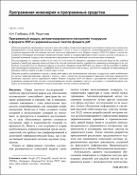 Abstract
Описана разработка программного модуля в виде веб-сервиса для автоматизированного построения тезаурусов на основе комбинированного метода выявления важных терминов и связей в тексте и алгоритма автоматизированного итеративного построения терминологий в коллекциях научных текстов на украинском языке. Формат тезауруса JSON-LD избран с учетом возможности публикации полученных терминологических связей в стандартизированном виде сетевого доступа к ресурсам, и с позиций понимания тезауруса как полноценного программного модуля поисковой системы научных материалов.
Description
The development of a software module in the form of a web service for thesauruses automated construction based on the combined method of identifying important terms and links in the text and automated iterative algorithm for constructing terminologies in the collections of scientific texts in Ukrainian language is described. Thesaurus format JSON-LD was elected with the possibility to publish the terminological relationships in a standardized form of network access to the resources, and from the standpoint of understanding the thesaurus software module as a part of search engine system.
Описано розробку програмного модуля у вигляді веб-сервісу для автоматизованої побудови тезаурусів на основі комбінованого методу виявлення важливих термінів і зв'язків у тексті і алгоритму автоматизованої ітеративної побудови термінологій в колекціях наукових текстів українською мовою. Формат тезауруса JSON-LD обрано з урахуванням можливості публікації отриманих термінологічних зв'язків у стандартизованому вигляді мережевого доступу до ресурсів, і з позицій розуміння тезауруса як повноцінного програмного модуля пошукової системи наукових матеріалів
Keywords
программный модуль
,
автоматизированное построение тезаурусов
,
тезаурус JSON-LD
,
Google API
,
MongoDB
,
Apache Lucene
,
PDFBox
,
Jlemmagen
,
JlanguageTool
,
Spring REST
,
документ
,
связь "общее–частное"
,
гипонимия
,
статья
Citation
Глибовец А. Н. Программный модуль автоматизированного построения тезаурусов в формате RDF из украиноязычных текстов формата pdf / А. Н. Глибовец, И. В. Решетнев // Управляющие системы и машины. - 2014. - № 5. - С. 42-49.
Collections